Know about Saygus V2, new powerful smartphone 2015
Created by the team that brought the HDMI technology to our TV's, Wireless HD (60 GHz) is an impressive feature of the V². Anything on the screen of the V² can be projected to a TV monitor with a USB or HDMI port using an WiHD dongle from up to 40 feet away. Play games, make presentations, watch movies, show photos, content or surf the web on big screens with no software required.

Root access and Multi-boot Capability-

The V² is sold with root access available making it the choice for developers as well giving them the opportunity to create new programs and applications directly to the V². When root access is enabled Super User (SU) permission is available and custom firmware can be installed. The V² supports Multi-boot, meaning the phone can run software from a MicroSD card or the internal flash all at the user's option.

User-programmable, highly customizable-

Individuals or companies are fully authorized to change out the user interface (UI) or customize software in the V² as they choose, to suit the needs of a particular industry or user preference. PC Magazine, in an article from August 15, 2011, stated that rooted capability, "could gain (Saygus) cult status among Android geeks."

The V² beats the competition in-

Features, design, connectivity and price. Saygus expects to sell the V² for up to $100 less than competing Android-based smartphones.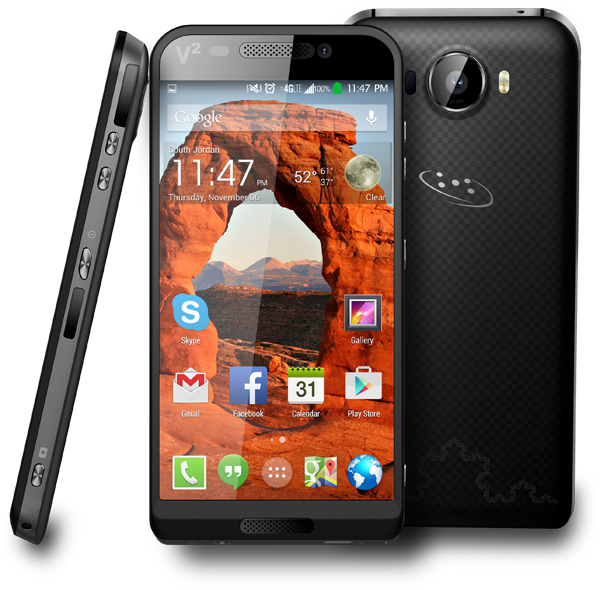 Screen

5" 1920 x 1080 display (445 ppi) Full HD
Sunlight Viewable Screen* Edge-to-edge Borderless Screen*
Front and Back Light Sensors – for enhanced screen lighting control
Corning® Gorilla® Glass 4

Size

67 x 137 x 9.7mm

Weight

Approx. 5 ounces (141g)

Cameras

21 MP Rear Facing with Optical Image Stabilization*, Auto Focus, and Dual LED Flash
13 MP Front Facing with Optical Image Stabilization* and Auto Focus
Hardware Camera Shutter Button

Memory

3GB RAM
64GB Onboard Flash Storage
Dual MicroSDXC Slots (256GB expandable storage)*

Processor

2.5Ghz Quad Core Qualcomm Snapdragon™

OS

Android 4.4.4 (KitKat)

Sensors

GPS, Gyroscope, Accelerometer, Compass, Proximity, Ambient Light

Networks

World Phone: GSM/CDMA/LTE
Fractal Antenna Technology*

Wireless

Dual-band Wi-Fi (2.4G/5G) 802.11 a/b/g/n/ac
NFC (Android Beam)
Bluetooth 4.0 Low Energy
60GHz Wireless Gaming and Mobile Beaming*
IR Transmitter (TV/Stereo Remote Control)

Ports

micro-USB 2.0/3.0 – Device, Host, OTG and MHL (HDMI)
3.5mm Stereo Audio and Microphone Jack
Biometric Fingerprint Side Scanner*

Audio

Built-in Stereo Speakers
Harman Kardon Sound Technology w/ 3D Audio* for videoHarman Kardon Speakers and Mics*
3 Microphones
Noise Cancelling Cypher Sound Technology*

Power

3100 mAh Removable Battery
Wireless Qi Charging Built-inPower Saving Chip – 50% Improved Battery Life*

Other

New-to-market Waterproofing Technology* – IPX7 Rating
Armored Online Mobile Security*
Root Access Available ("developer phone")
Multi-Boot (supports booting from MicroSD card)** Exclusive V² Feature
(Source: Saygus)